Events
US Consulate General in Jeddah relocates
JEDDAH : The US Consulate General in Jeddah is moving to a new consulate compound in Al-Mohammadiyah district on Sunday after being located on Falasteen Street in Al-Hamra district for over 65 years. The new consulate compound in Al-Mohammadiyah district is close to the new American School building.
US-Saudi diplomatic relations began in 1948 when the US' first diplomatic mission in Saudi Arabia was located in a traditional house in Jeddah's old city center, Al-Balad. In 1952, the Consulate General relocated to Al-Hamra district. As Jeddah grew, the city expanded around the Consulate.
The new US Consulate General will be open to the public for business on September 24. The public entrance for all consular services (visas and American Citizens services) is located on the west side of the new consulate on Al-Safa Street. Additional information on the new location can be found here.
Sheikh Khaled Juffali
The ABJ Members and guests were honored to have Mr. Sheikh Khaled Juffali as our guest speaker. His years of successes, depth of understanding, and delightful speech created one of the most notable evenings in our American Business Group's history. Our group enjoyed hearing about his father's experiences and business journeys. Mr. Khaled Juffali anecdotes were fascinating giving us a close look at the land, culture, and people that we would not have gained in any other way.
News



2020 USA Presidential Elections

Live interactive map to follow the US Presidential Elections as mail-in votes are still being counted.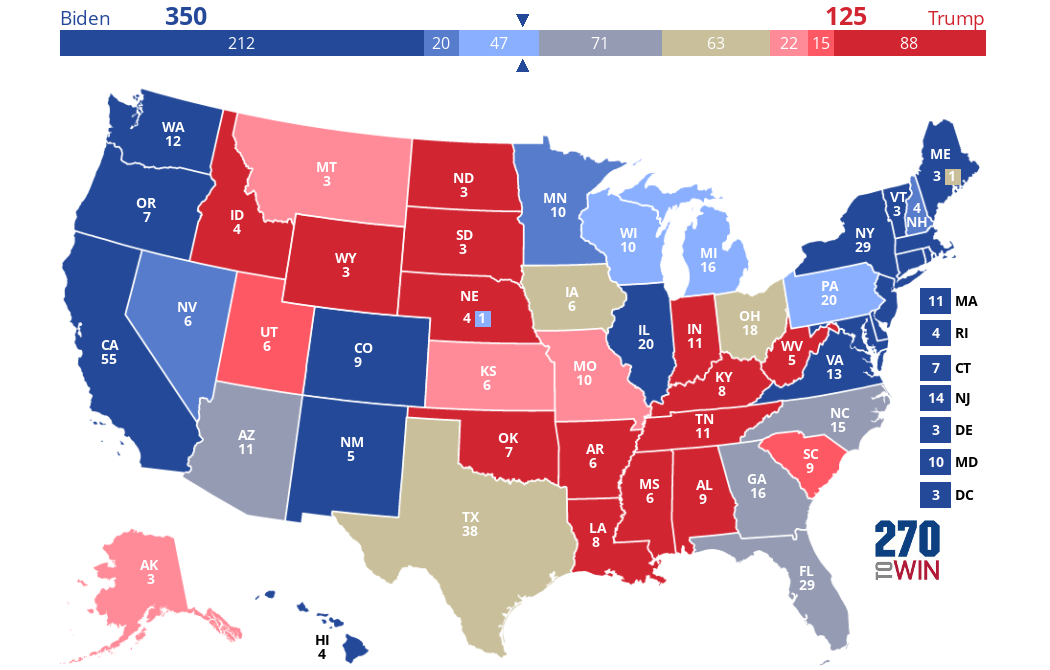 Click the map to create your own at
270toWin.com
KSA November 2020 Economy Summary
Key observations from Jedwa Investment report are as follows:
Real Economy: The non-oil PMI rose in September to register its highest reading since February of this year. The rise was supported by private sector output and new orders.
Consumer Spending: POS transitions rose by almost 34% year-on-year in September and by 6.6% month-on-month. Meanwhile more recent weekly data shows POS transactions slowing in October.
SAMA foreign Reserve Assets: SAMA FX reserves declined by $5.9 billion month-on-month in September, to stand at $447.6 billion. We expect FX reserves to total around $430 billion by year-end.

Inflation:

Prices in September rose by 5.7% year-on-year, but declined by 0.2% month-on-month, boosted mainly by annual rises in "food and beverages" and "home furnishings."

Bank Deposits: Total bank deposits rose by 3.7 percent year-on-year in July, supported by a significant rise in private demand deposits by 6 percent year-on-year.
Labor Market:

Q3 data from the number of Saudis in employment rose by 81 thousand, whilst foreigners declined by 236 thousand.

Real Estate: Prices rose by .5% in Q3 2020, year-on-year, and declined by .6% quarter-on-quarter.
Oil-Global: Brent oil is currently trading around $40per barrel (pb). We expect Brent oil to trade around current levels during the remainder of Q4, with little upside to oil prices as many countries around the world continue to grapple with a second wave in COVID-19 Cases.
Oil-Regional: Saudi crude oil production was flat month-on-month in August at just under 9 mbpd in line with OPEC+ levels.
Stock Market: TASI declined by 4.7% month-on-month, the first monthly decline in seven months, as recent bullish sentiment reversed. It seems that individual investors have been unnerved by a wave of bearish news in relation to rising COVID-19 cases around the world.